What is Lifestyle Medicine?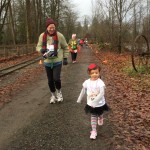 According to the American College of Lifestyle Medicine, lifestyle medicine is the use of various lifestyle interventions in the treatment and management of disease. Lifestyle medicine is often the first or preferred modality for not only prevention but also treatment of most chronic diseases, including diabetes, heart disease, high blood pressure, high cholesterol, stroke, obesity, insulin resistance syndrome, osteoporosis, depression, anxiety and many types of cancer.
Our desire is to help individuals, families and communities live well – with Awareness, Intention and Meaning.
AIM to Live Well
Our program, where you will LEARN, PRACTICE, and SHARE, encompasses 24 class hours to optimal health and wellness.
"AIM to Live Well" is our core Lifestyle Medicine program, which invites you into a transformational learning experience. This program reorients you toward whole-person health and wellness through living with greater Awareness, Intention and Meaning. In individual and group settings, you will have various opportunities to learn, share and practice lifestyle choices that help prevent and treat many chronic medical conditions.
We emphasize five (5) key lifestyle practices: Fork, Feet, Fingers, Breath and Heart. These have been shown to have the greatest impact on long-term health, and in each of these key lifestyle practices, you will discover a spectrum of choices that will move you toward increased vitality and wellness.
Fork symbolizes themes related to food and nutrition;
Feet focuses on physical activity;
Fingers addresses addictive behaviors;
Breath relates to stress management, rest and sleep;
Heart emphasizes forgiveness, gratitude and connections with self, others and God/Higher Power.
Our Program Components: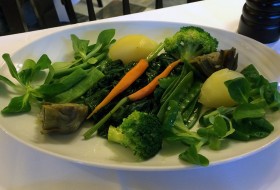 AIM to Live Well – Core Program: Sixteen 90-minute group sessions, for sustainable lifestyle change.
Goal: Help patients lose weight and move towards a healthier weight. Help prevent, improve and reverse lifestyle related chronic diseases such as diabetes, heart disease, high blood pressure, high cholesterol, stroke, depression, anxiety and certain cancers.
AIM Communities – monthly guided gatherings of all current and previous participants of the Lifestyle
Medicine program. The goal is to provide ongoing support for sustainable and lifelong lifestyle changes through group interactions, shared experiences and transformational learning.
AIM Deeper – Specific courses for in-depth learning and practice of the key lifestyle practices.
For example, "Wellness Cuisine" – An 8-session, biweekly program for more in-depth exposure to plant-based, whole foods following the traditional Mediterranean cooking.
AIM Coaching – personalized one-on-one sessions with a wellness coach and transformational educator for support and guidance in putting the "AIM to Live Well" lifestyle principles into daily practice.