We have been providing expert cardiovascular care to Everett and Snohomish County residents for over 40 years. Our team consists of nine academically trained cardiologists as well as 3 advanced practice clinicians (APCs) specializing in clinical cardiology, electrophysiology, interventional cardiology, vascular and endovascular medicine, cardiac and vascular imaging and congestive heart failure.
TeleHealth is now an option! When possible we are encouraging our patients to sign up for e-visits!

 Learn more.
Please check out this helpful guide to improve your TeleHealth experience – Patient Guide for Logging into Telemedicine
About Our Practice
At WWMG Cardiology, our mission has always been to put the needs of our patients first.
We focus on the unique health and lifestyle needs of each patient and build an individualized care plan to meet those needs. We also seek out and partner with some of the best healthcare providers in the region to ensure our patients have access to the broadest possible range of resources.
Languages we speak: Arabic, English, Hindi, Rajasthani, Spanish, Tamil, Telugu, Vietnamese
WWMG Cardiology Welcomes Dr. Michael Eskander to the Practice
Dr. Michael Eskander is a Cardiac Electrophysiologist (EP) who specializes in testing, diagnosing, and treating abnormal heart rhythms. He graduated from UC Irvine School of Medicine and completed his EP fellowship at UC San Diego.  Dr. Eskander has advanced training in cardiac catheter-based ablation as well as device implantation and management.
His interests include atrial fibrillation ablation, complex ventricular ablation, and complex atrial dysrhythmia ablation. "Teaching and problem solving drive my passion in the field of electrophysiology but the true reward is the often immediate and long-lasting relief of symptoms that we can provide for our patients. I value the opportunity to be a part of each patient's care and management."
WWMG Cardiology is formally affiliated with Providence Health Services, after ending its previous affiliation with Northwest Hospital and the larger UW Medicine health system.
WWMG's cardiologists as well as their advanced practice clinicians (APCs) will continue to build on the group's many years of excellent work in Snohomish County. Further collaboration between WWMG Cardiology and Providence Medical Group Cardiology will bring together the expertise of both groups to advance and strengthen heart and vascular care in our region.
Current WWMG Cardiology patients will see the same provider and receive services in the same space as before. You should see little changes to your insurance coverage as WWMG Cardiology under the partnership with Providence accepts the majority of the plans that we saw under Northwest Hospital. We do encourage you to check your insurance and the office to double check and ensure coverage under your current plan or network after the transition on July 1, 2016. Patients who receive care under the UW Medicine Accountable Care Network (Preferred Partnership or UMP Plus) will be out of network. If you have any questions about your cardiology care with WWMG, you can call 425-225-2700 for more information. You can read the letter sent to our patients here.
---
Diagnostic Services:
Treadmill or pharmacologic cardiac stress testing with nuclear perfusion imaging
Transthoracic and stress echocardiography with contrast enhancement
Arterial ultrasound testing including carotid, subclavian, renal, mesenteric, and lower-extremity peripheral examinations
Abdominal aortic aneurysm screening
Ankle-brachial index testing with exercise
Lower extremity venous ultrasound
Pacemaker and cardiac device interrogation
Ambulatory Cardiac Monitors including Zio Patches
Cardiovascular Procedures:
Coronary angiography and interventions (angioplasty and stenting)
Peripheral vascular angiography and interventions (angioplasty and stenting)
Structural heart interventions (including TAVR – transcatheter aortic valve replacement, Watchman device implantation for atrial fibrillation, closure of patent foramen ovale/atrial septal defect, balloon mitral valvuloplasty, and septal ablation for hypertrophic cardiomyopathy)
Temporary and permanent pacemakers
Cardiac resynchronization therapy (biventricular pacing for CHF)
Permanent implantable defibrillators
Invasive electrophysiologic (EP) study and arrhythmia ablations (including ablation for atrial fibrillation)
Accreditation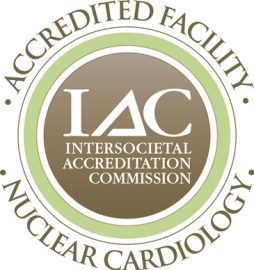 The Cardiology Imaging Center (CIC) at our Silver Lake Office is jointly administered by Western Washington Medical Group and Providence Health Services. Our CIC provides the highest level of cardiovascular testing in Everett and Snohomish County. The laboratories are professionally staffed and provide full range imaging services for heart and vascular disorders.
We are proud to announce our Nuclear Cardiology Laboratory has been accredited through the Intersocietal Accreditation Commission.  Any patient who needs non-invasive testing (echo, vascular, nuclear stress testing) can be referred to our office.
We support our patients having access to their health information through the Patient Portal.  Beyond the Patient Portal, we can enable certain mobile apps that meet requisite technical specification and security requirements to provide you access to your health information in a safe and secure way.  Currently no mobile apps have been configured to connect to our system.
Our website, www.wwmedgroup.com, will be updated if any additional apps become available for you to use to access your health information.  Please contact our office if you have any questions.