In the beautiful state of Washington, families have the opportunity to rely on Western Washington Medical Group's expertise when looking for a professional Family Provider.
Our group offers not only family practice care but also has a spectrum of specialists ranging from cardiologists to urologists. You'll find that WWMG covers many areas of medicine, including general and family health, developmental problems or psychological needs.
When you meet with one of our family medicine providers, you will find a provider who takes a personal interest in every member of your family regardless of age. We look forward to devoting our full personal attention, time and knowledge to taking care of your family and addressing any medical needs, ranging from newborn to elderly care.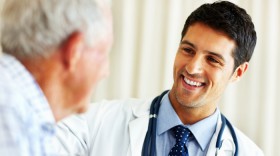 As part of our services, we take a personal interest in your overall condition and have classes available to assist you in learning how to live a healthier lifestyle. In these fun and supportive classes, a physician works with you, offering you an excellent avenue to learn how to achieve wellness in your life.
Our services are available in the Everett and North Puget Sound region, and some of our specialties have satellite offices in Skagit, Snohomish and Island Counties.
Find out more about our high-quality and personal service by visiting the Family Practice page.